Cast & Crew of Joseph Spotlight
Farmington High School has been working tirelessly to prepare a production of Joseph and the Amazing Technicolor Dreamcoat. The musical is largely student-directed, with members of the cast in charge of choreography, stage design, and even input for costumes. The show is very unique and has a lot of exciting elements, and the cast has done an amazing job putting everything together.
"We repainted the stairs like five times, but all together things are really starting to turn out! We've got a  color scheme going, and it looks really nice. I am super excited about the levels and everything, I think it will be kind of a spectacle for the audience and I think it'll be great… there's like a French scene, a disco scene, and a western scene. There's those stereotypical costumes for all of those and it's really entertaining and really fun," Taylor Garlick, who plays Joseph, said.
Alongside costumes and set design, students were in charge of choreography for the show. The visual element of choreography is very important in a show as eccentric as Joseph.
"I was able to choreograph this whole show and a lot of it is dancing so it's probably the biggest project that I have ever done…me and my other choreographer, Keely, worked a lot over the summer and choreographed the whole show. It was a long process and a lot of hard work…I hope that people who come to see [the show] enjoy it as much as I do," choreographer, Callum McKay, said.
The visuals aren't the only essential part of the show. Many cast members emphasized the role that comedy has in progressing the plot, and adding excitement and amusement to the story as a whole.
"With comedy, and with parts like a guy who plays Elvis, the show is actually interesting, and funny…it's just so fun. You don't get a lot of musicals that are just straight fun. There's lots of serious elements, and others, but it's super fun," Collin Russon, who plays the Pharaoh, said.
Overall, the members of the cast and crew are super grateful of the time that they have spent working on Joseph. The show is full of emotion and fun, and the cast has loved working on it together. They are very appreciative of each other's talents and abilities, and the different skill sets that every member brings to the table.
"My favorite part of the show so far has probably been being able to work with everyone who is a part of it, especially being in a position to watch everyone grow and to learn has been really special and fun," Music director, Heather Luke, said.
The musical is putting on productions until Saturday, March 7th, so be sure to support the hardworking cast members of Joseph and the Amazing Technicolor Dreamcoat!
About the Writer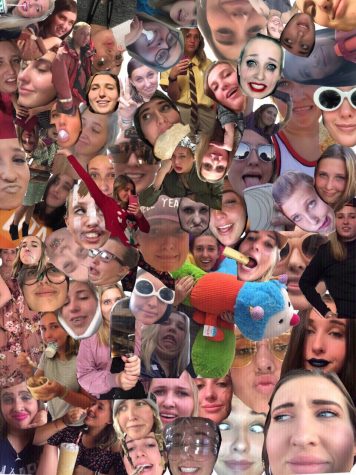 Raegan Edelman, Comedy Column Editor