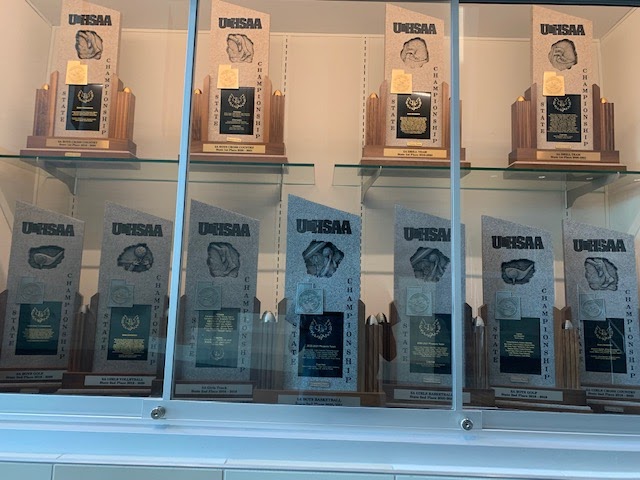 Though Farmington High is a relatively new school, the sports teams have already had lots of success. In less than four years, Farmington High has had 19 teams win a region championship, seven teams finish runner-up at state, and four teams win the state championship.
It all started in September of 2018 when the boys golf team won the very first region championship in school history. Even though it was the first year the program even existed, that same golf team went on to take second at state. In the 2018-19 year, the student body at Farmington High consisted of mostly just sophomores and juniors, making it hard for sports teams to excel. Because of this, the only other team to win a region title that school year was boys cross country with a dominating victory.
The next year Farmington High returned almost all of its varsity athletes, leading to much more success in championship competition. The following teams all won their region championship in the 2019-20 year: girls basketball, boys golf, girls volleyball, football, boys cross country, girls cross country, and girls soccer. The boys cross country team won the school's first ever state championship, with a win over Timpanogos in the state race. The drill team also won their first state championship in the 2019-20 year.
"My sophomore year was the year Farmington High really stepped it up in sports, and it was a lot of fun to watch and be a part of," senior, Drew Hildreth said.
The 2020-21 year was awesome because both the drill team and the boys cross country team won region and repeated as state champions. To go along with that, boys golf, girls basketball, boys basketball, boys track, girls cross country, and boys lacrosse all took home a region title.
"I got to witness a couple different region championships, you know it was awesome to see and it made me proud to be a Phoenix," junior, Spencer Bradshaw said.
This year, Farmington High has gotten off to a good start with region champions in both boys and girls cross country and a 3-peat at state for boys cross country. Farmington High has many talented athletes, so look for the Phoenix to get many more trophies this school year.