SBO Designs School Spirit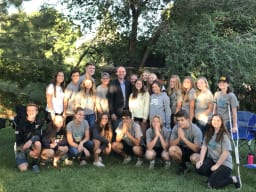 Camryn Bird
October 25, 2018
Farmington High School is full of firsts this year and Diona Irwin is taking part. Diona is a student body officer and a part of the first FHS student government.  
"I wanted try something new and Davis is an old school," SBO Diona Irwin said.
For sophomore and junior year Irwin went to Davis High. She wanted to try something new her senior year. What better way than to go to a new school and run for student government? Diona wanted to run for office because, she wanted to make Farmington a welcoming place for students coming from rivaling schools.
"When it was first starting up it was obvious we both came from two different schools," SBO Diona Irwin said. Farmington High's population is made up of students who had previously gone to Davis and Viewmount. FHS's student government is also made up of people who had gone to Davis and Viewmount. Luckily, as time went on Irwin says that things got better and we started acting more like Farmington High and less like the schools we came from.
"My specific responsibility is graphic design" SBO Diona Irwin said.
Dionas role on the student government is very important. She works side by side with other graphic designers to create advertisements for the schools events. Irwin makes all of the PowerPoints that run in the cafeteria and around the school. She also helps create posters for games, events, and dances. Irwin is also the one who made the student section banner for the football field.