Bountiful Fire Forces Evacuations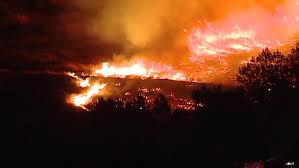 Hundreds of Bountiful and Centerville residents were startled awake in the dead of the night by police officers pounding on their door. Upon opening the door, the residents were told they had five minutes to grab what they could and leave.
Around 1 AM Friday morning, amidst the rumbles of a thunderstorm, a fire was sparked on a gun range in North Bountiful with 20-40 MPH winds aiding its growth and pushing it towards nearby homes. The fire, getting pushed by the wind, spread toward Eastern Bountiful and some parts of Centerville. As the fire progressed, it burned around 321 acres in its path
3 homes were destroyed while several others were damaged from the flames. The fire is now 100% contained and no longer raging. It continued for several days while fire crews worked hard to constrain it and keep it from further damaging any more homes.
The Church of Jesus Christ of Latter-Day Saints received many evacuees into their meetinghouses until evacuations in Centerville were lifted around 10:00 Friday morning. However, Bountiful evacuations stayed in place overnight until 11:00 Saturday morning. At that time, Bountiful residents were allowed to return to their homes. The fire was started high on the mountain and has been determined to have started from an abandoned campfire. Police are searching for the 2 people that were camping in that area around 1:00 AM.
Davis County schools were unaffected, and school continued as normal. However, many parents were encouraged to do what they felt was best concerning their children going to school.
As the fire continued—releasing more and more ash and smoke into the sky—air quality in Davis County worsened drastically. The Air Quality Index climbed higher and higher into the 101-150 range—otherwise known as the orange zone. 
As a public, we need to remember that in the dry summer air, fires start, and spread, very easily. Be very careful when you have an outdoor fire, and never leave it burning without supervision.