America Recognizes Heart Disease For National Wear Red Day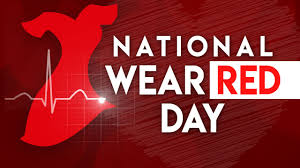 Here in America, we have a lot of national days. Some of them, like Answer the Telephone Like Buddy the Elf Day, are funnier and appeal to the more lighthearted side of things. Others have a deeper, more serious meaning behind them.
Held on the first Friday in February, National Wear Red Day is a day to recognize that heart disease is a major issue among American women. 
"The American Heart Association hopes by asking women (and men) to wear such a noticeable and, some would say, powerful color on this day, they can bring attention to a disease which claims the lives of almost 500,000 women each year," National Today said. 
Heart disease is pretty common in the US–one in three women die from this illness. That's a crazy amount!
Even though it is centered around something that mainly affects women, this national day isn't just for women. The point of this day is to bring attention to something that is a major issue in our country, and anyone can do that.
This Friday, help bring attention to this issue in our country by wearing something red. If you want to find other ways to help, visit https://nationaldaycalendar.com/national-wear-red-day-first-friday-in-february/ to see what you can do.
Sources:
https://nationaltoday.com/national-wear-red-day/
https://nationaldaycalendar.com/national-wear-red-day-first-friday-in-february/