Show Review: Mandalorian Season Two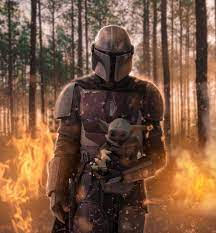 Disney's hit TV series "The Mandalorian" is living up to the hype. Season two is the sequel to the highly acclaimed season one, so expectations were high. Without spoiling too much of the plot, here's a quick review and opinion on season two.
The fist episode shows us where the Mandalorian is after the season one finale. He is on a deserted, or nearly deserted, desert planet. This episode includes heavy western movie themes including a shootout at a bar and a group of people working together to defeat the monster of the planet. It's a fairly good episode, especially if you like westerns, and is good at bringing out the serious gunslinger side of the Mandalorian.
The rest of the episodes only get better as they are built around the plot of Mando finding a Jedi to give Baby Yoda to. The story brings in old and new characters and new planets. The show was the most popular streaming choice in December 2019.
"The show is good because Baby Yoda is cute," senior Brynli Hales said.
"The Mandalorian is an awesome show with a good story line," senior Peyton Kelly said.
The final episode is the highlight of the season. The nostalgic feeling it gives and, for some fans, the correction it gives makes it a satisfying ending to the season, and redeemed Disney a little bit in the eyes of Star Wars fans. This show is 100% with watching.