What The Hecka is DECA?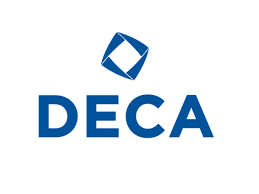 DECA is just one of the amazing clubs that we offer here at Farmington High School. If you are looking to be a business major, this club would be perfect for you. Many people may ask, what the hecka even is DECA? Well, DECA helps build better leadership skills through academic conferences or competitions, teaches you how to be an entrepreneur in marketing, finances, hospitality, management, and much more.
 Many successful leaders and entrepreneurs did DECA at their very own high school. Not only does DECA teach many good leadership and life skills, it also looks great on college applications and resumes. You can also receive many scholarships for competing, even if you don't receive any scholarships, you still receive lots of DECA swag. Who doesn't love free swag?
DECA has very amazing members all over and an even better environment. You get to meet many members from around the country and make lots of new friends.You get to travel all around Utah for many competitions with your team, and may even be able to travel to another state! Many people at our very school have made life-long friends and bonds from joining DECA.
"Join DECA right now. It would be the best decision, you get to meet lots of great people, and make experiences that will last a lifetime," DECA President , Kate Bowers said.
"DECA teaches you life skills that you can use beyond high school, plus it looks great on any application that you may be applying for. And who knows, you might just meet your new best friend or find a new passion." DECA advisor, Mrs. Porter.
To join the club, talk to Mrs. Porter. You can join anytime of the year, just pay the club fee, and you are in! DECA meets regularly in Mrs. Porter's room, and there are always treats! Hope you consider joining DECA.