Inferno Club Invites School Spirit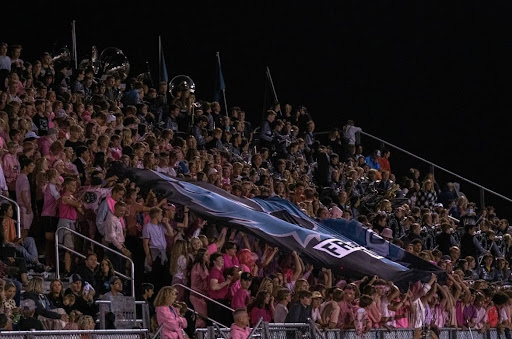 Inferno is a newer club at FHS. It is currently an informal club that includes the student section that attends school-sponsored athletic events. 
"Our plan is to systematically become more organized, similar to The Hurd, The MUSS, and The ROC," Inferno Club advisor, Amanda Weaver, said.
In the future, specifically later this winter, the Inferno Club may offer an "Inferno Premium" membership. As an official member of the Inferno Club, the student could potentially receive early entry into school events, exclusive Inferno merchandise, and discounts on tickets.
Maybe even more than other clubs, the Inferno Club truly allows students to connect with each other. The feeling of unity at a sporting event is indescribable. As students join together to cheer on their peers, a commonality is gained among very diverse students.
"I would say students should join the Inferno because it is a great opportunity to get involved with the school. Students should go to the games because it shows school spirit and shows their fellow classmates support," Spirit Student Body Officer, Mya Lindsay, said.
As for now, to be a part of the Inferno, simply attend as many school events as possible. Attend football and basketball games, but also events such as mountain bike races, swim meets, tennis matches, XC/Track races, wrestling matches, etc. Round up friends and school spirit, and start attending!      
It is necessary to go to attend sporting events "because you've got to have school pride," senior, Mackenzie Toone, said.
Many have said that the best high school memories come from attending events and being involved.
To stay updated on sporting events of the week and in the future, follow the Inferno Instagram: @farmington_phoenix_inferno 1
Stay tuned for further announcements on the "Inferno Premium" membership and get your school spirit on!