Sing 2 Dethrones Spiderman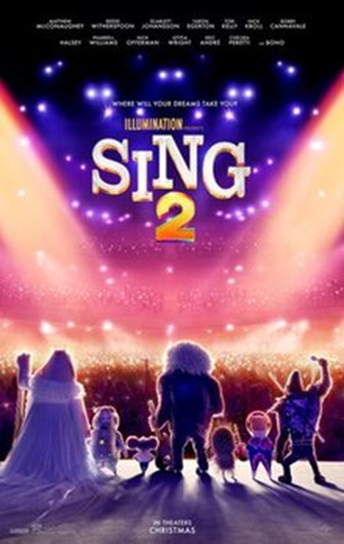 Lille Udy, Arts and Entertainment Reporter
February 15, 2022
December 22, 2021, the best movie was created. This movie is called Sing 2. This movie is about how a koala, Buster Moon, dreams to make his theater shows big. The movie transitions as he tries to make himself and his cast known. The only way is to travel to the Entertainment Capital of the World. This city is made to look like a beautiful, bright, and large Las Vegas.
"I've seen Sing 2 three times now and each time was an emotional rollercoaster. It showed me how I should avoid being like Meena and not sing in public places like the gorilla does. It teaches me to also be brave and courageous," senior, Sophie Connors, said.
 This movie was well liked by many people, and for different reasons. Sophie gave just one of those reasons.
You have most of the same cast returning. Most importantly the Elephant, Meena. Meena is the most popular character in the movie. It would be a disgrace to call her a fan favorite, because she is the complete opposite. Tik Tok has canceled this elephant and people look forward to seeing this movie solely to make fun of her. This fandom started when Sing 2 was released, but the core of the hate started from when she out-sang everyone during "Happy Birthday" to her grandpa in Sing 1. I loved watching Sing 2 because there were so many scenes where Meena stole the spotlight and made it about her. This caused the creation of more memes. However, there are some Meena fans that still support her. We ran into one at Farmington High.
 "I like Meena even though nobody else likes her. I just feel bad because nobody else likes her…Steed taught us that everyone should have a sense of belonging and nobody likes the elephant, so I do," junior, Jaden Petersen, said.
It is important Meena has supporters so that we see her in Sing 3 and can create more memes.
Let's talk about the soundtrack. I think they did such a good job of carefully selecting the perfect song for each situation. My personal favorite was when they chose to play the smash hit, "Bad Guy" by Billie Eilish when they were sneaking into Jimmy Crystal's building. The song that brought tears to my eyes was the very last song of the movie. "Your Song Saved My Life" was written by U2 specifically for Sing 2. The song shows how Clay Calloway found his joy back in music after the passing of his wife. It is a great ending to the movie.
I loved this movie, and everybody else agreed.
"My thoughts on Sing 2 were that it had this really good story going for it and very good characters," senior, Andrew Baker, said.
 I highly recommend going to watch this movie when you're with your friends, family, grandparents, ex best friends, and so forth. This movie will create bonds and inside jokes you'll forever treasure. This movie makes the new Spiderman look weak. The takeaways from Sing 2 are life lessons like honesty, forgiveness, and true friendship.