Book Review: They Both Die at the End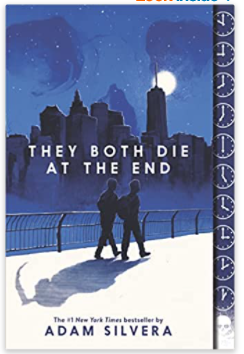 They Both Die at the End is a novel written by Adam Silvera, a short read with only 227 pages, but with a very captivating plot line. Some may think that by already knowing the ending of the book that it might be not as interesting, but it leaves you on the edge of your seat despite the title of the book. It takes place in the near future, but has a sci-fi spin on it. Everyone is able to know the day they die.The novel mainly walks you through these two boys' last day alive, and switches between different narrators each chapter. At first, I didn't love how there wasn't a constant narrator and it was constantly switching between these two characters even adding in additional characters to the mix as well, but towards the end I had come to love how the book gave different perspectives and gave you a chance to see how one person's small decision can affect so many people.
This book makes you want to live each day like the last and get out of your comfort zone because you never know what could happen. It is fun being able to see how these two boys spend their last day.
"Adam Silvera reminds us that there's no life without death and no love without loss in this devastating yet uplifting story about two people whose lives change over the course of one unforgettable day," a Goodreads article said.
Even though we know how it ends, it still leaves a little mystery on the ending. Even when you think you know how it ends, it sends you for another loop.
"A love story with a difference – an unforgettable tale of life, loss and making each day count," a Bookshelf article said.
"The storyline of this book was very interesting and is definitely one of my favorite books yet," junior, Ellie Tandy, said.
This novel is a good book that gives fresh ideas and perspectives.I wouldn't recommend it to young readers because of some of the language and heavy topics of death. But I still think that this book is a good read for a more mature audience.