Pickleball is Kind of a Big Dill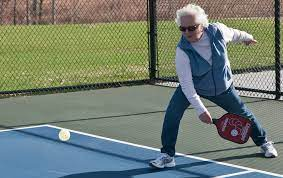 Pickleball, an energetic yet low impact sport. It is a big dill in America. It is about to become one of the most well known sports. Whether you have played during recess, gym, or even just for fun, most people have played it. 
"Pickleball is kind of a mix of tennis and ping pong, it's tennis on a smaller scale but you play with a wiffleball and smaller paddles. It is a little bit easier because the courts are smaller. It is super fun," senior, Jessica Haviland, said.
Jessica has had a lot of experience playing Pickleball. She is the founder and team captain of the pickleball club here at Farmington High School. 
"I have only been playing Pickleball for a couple years but I would consider it to be one of my favorite sports," Haviland said. 
Pickleball club is a cool club here at Farmington high. They meet once a week on Monday nights to work on their mad pickleball skills and play the game with each other. 
"I've been playing Pickleball for three years. My favorite part of playing Pickleball is being able to 
meet lots of people and how competitive it is. I'm definitely planning on being a part of this club next year," sophomore, Kaden West, said.
The great sport of Pickleball was born not far from Seattle Washington, in Bainbridge Island in 1965. Pickleball is rapidly becoming one of the most popular sports in the world. 
Despite how popular this sport is, Pickleball is not currently in the Olympics.
"I don't see why Pickleball should not be in the Olympics. Tennis is in the Olympics and its pretty similar, personally I am better at Pickleball than tennis but I enjoy them both so I don't see why it couldn't be there because some people are better at Pickleball than tennis. All sports should be appreciated," sophomore, Milo Davis, said.
For all you Pickleball lovers out there, this fabulous sport is currently being considered to be added to either the 2024 or 2028 Olympics.