Softball Season is a Home Run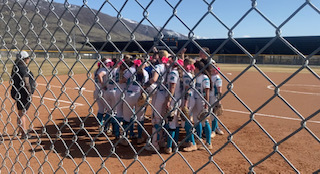 Softball is having a fantastic season. With 15 wins and counting, the team is ending their season strong.
"I think the season has been really good. It's been super fun and we've had a really good year. Like we've been winning a lot of games and we've been playing really really good,"
senior, Hadley Eichmeier, said.
Our softball team is totally crushing it. They recently beat Davis High School's Softball team during their senior night.
"I feel good about beating Davis because we ruled them on their senior night and they beat us on our senior night last year, so it was a good comeback," sophomore, Maddie Kelker, said.
Softball was given its name in the 1920s due to the soft ball that the girls played with. Unlike the ball they play with, our girls are strong and ready for anything. Our team dedicates 15-20 hours a week practicing. They warmup and throw, then hit or do infield drills, and then some team defense and run during every practice. Teamwork truly makes the softball dream work thanks to the communication that the girls have to have throughout the game. They put in so much work to continually improve their softball skills.
"I've been on the team since I was a freshman, so four years. I started playing softball with my friends when I was very young. I now play second base," senior, Paige Herbon, said. 
"I've been on the softball team since my freshman year. I am a third baseman. I love all the friendships and girls on the team," Eichmeier said.
After playing on our softball team for four years now, Herbon and Eichmeier are sad to say goodbye, but they have made so many memories with this team. 
"My favorite softball memory is making it to State last year and just playing with the girls," Herbon said.
Softball is a great sport and it's definitely worth watching to support our fabulous team.