The Rising Star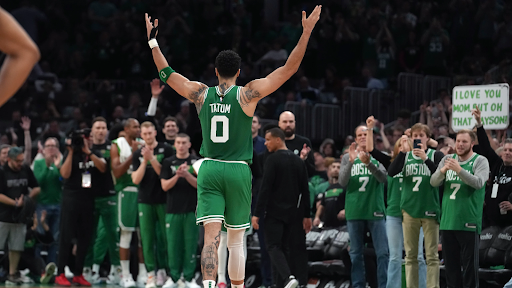 In the fast paced world of the NBA, new stars are constantly emerging with impressive skills and passion for the game. One rising star is Jason Tatum, whose talent and all-around skills have him bursting to the scene. 
Tatum was born March 3,1998, in St. Louis, Missouri. Tatum has always had love for the game of basketball from a young age. He showed his skills and talents at Chaminade College Preparatory School, where he became one of the highest prospects in the nation. Tatums impressive [performances earned him a spot at Duke University. After an amazing performance at Duke, Jason declared for the 2017 NBA Draft. He was picked up by the Boston Celtics being the third overall pick. " Jason Tatum is a rising star and he continues to impress me. He is still young in the league and he will have a bright future ahead of him.'' Senior at Farmington High School Crew Frost.
Tatum's rookie season showed just a glimpse of his potential. He averaged 13.9 points, 5 rebounds, and 1.6 assists per game. The next season he had a breakout and averaged 15.7 points, 6 rebounds, and 2.1 assists. His impressive work got him a spot on the all Rookie first team. Since then Tatum has only gotten better, he continued to impress everyone around him. In the 2019-2020 season, Tatum became the youngest player in Celtics history to score 40 points or more in a playoff game. He averaged a career high 26.4 points, 7.4 rebounds, and 4.3 assist during that season. In game 7 against the Philadelphia 76ers, Tatum broke the NBA record for points scored in a game 7 with 51 points. " Tatum is a dominant player in the league. He has already shown his dominance by scoring and also being able to play with the greatest in the league. " Senior at Farmington High School Ethan RIvera.
Off the court, Jason has become a role model for young basketball players. Tatum has mentioned many times the importance of community involvement. Tatum often gives back to his community and is a great example of philanthropy. 
At just 25 years old, Jason Tatum's future in the NBA is bright. As he continues to get better and gain more experience, it's only a matter of time when he is in the goat talk.