A Legend of the Game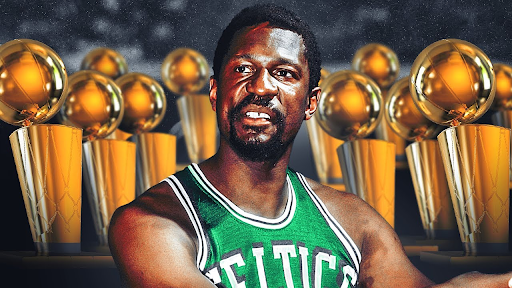 Bill Russell is one of the greatest basketball players to ever play in the league. Bill left an indelible mark on the sport of basketball. Beyond his incredible skills on the court, Bill Russell was a big part of driving social change during hard times in America. His impact extends far beyond the league.
Bill Russell was born on February 12, 1934, in Monroe, Louisiana. At a young age Russell moved to Oakland, California. During his time there he discovered his love for basketball. He attended the University of San Francisco. Russell showed that he could be a dominant player on the court leading the Dons to back-to-back NCAA championships in 1955 and 1956. " Bill Russell was an amazing player. It is fun to go back and look at his highlight clips to see how good he was." Senior at Farmington High School Ty Rawson. After College, Bill Russell joined the Boston Celtics in 1956. Standing at 6 '10 and had incredible athleticism and great defensive skills he became a shot blocker and a rebounder. During his career he won 11 NBA championships during his 13 years in the league. " Bill Russell left a big impact on the game today. Many times my coaches bring up Bill Russell." Senior at Farmington High School Tanner Covington.
Bill's impact went further than basketball. During his time of intense racial segregation and discrimination in the United States, he used his fame to help fight for civil rights. Russell was vocal about his want for change and had a big impact in the civil rights movement. 
After retiring, he became the first African American head coach in NBA history. He was the Boston Celtics head coach and coached them to two championships. Russells coaching style and his high basketball IQ created an influence on coaches today. 
Bill Russell is more than basketball; he paved the way for future generations of African Americans players, coaches, and executives. His remarkable career led him into the Basketball Hall of Fame. Bill Russell will forever be remembered as a legend of the game and a figure who inspired others to do great things.