Winter Drumline Prepares For Competitions
This year at Farmington High, the Winter Drumline and the Winter Color Guard teams have joined up to create the Indoor Performance Ensemble for this competition season. The Winter Drumline are students here at Farmington High School that play percussion instruments, and they are part of the Marching Band that has its competition season in the fall.  And the Winter Color Guard are also students here at Farmington High that have competed with the Marching Band. The Indoor Performance Ensemble is just a section of Marching Band and they have put it indoors. 
"I love that anyone can join the drumline, and have the opportunity to learn a new instrument and further develop their talents as a musician," junior Sean Degen, said.
If anyone is looking into joining the ensemble group you don't have to have any experience because they will teach anyone who wants to learn how to march, and play a percussion instrument, and the Color Guard is the same, they love to teach anyone who is willing to come and be on their team. The performance group was defined so well.
"Winter Drumline is an extracurricular activity in which music is written for the season and performed. You either play in the Front Ensemble or the Drumline. Guard, or Color Guard, is an activity where you use flags, rifles, and/or sabers while dancing across a floor to music. There are different ways to use each one and it gives a visual effect," Sophomore Hope Ryan, said.
This year the Performance group is hoping to achieve more than they have in the past 2 seasons, even though many things will be different this year because of having to deal with health guidelines. With one performance down and getting second place the Performance group is working hard to achieve more.
"I guess if I had to give a piece of advice, I'd say to not stress about it. Work hard, but make sure you remember that winning and being 'perfect' isn't everything. It's okay if you make mistakes," senior Emma Thornblad, said.
The Indoor Performance Ensemble is a great opportunity for anyone who is wanting to learn something new, or try something new. The environment there is one of the best learning and fun environments. Indoor Performance Ensembles usually begin in November and end in April. And with it being February right now, they are starting competitions to show all that they have learned and to keep improving.
About the Writer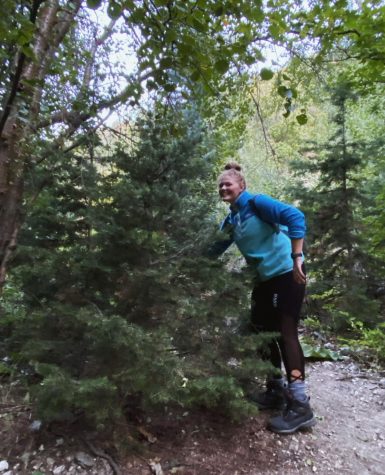 Noelle Wigren, Staff Writer
That's me, Noelle (right) and a Pine tree named Gordon le Pine (left)
"I'm not dead yet...."-Monty Python and the Holy Grail