Songs That Will Get You in the Mood For Fall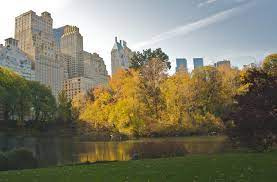 The green now becomes red, orange, and yellow. The leaves outside are falling and the temperature is going down. What better way to enjoy the fall with vintage music!
What could be vintage? The 90's? 80's? How about 1908. Ruth Etting was a new artist on the rise. A song that comes to mind when I think of her is "Shine On Harvest." This song explains the story of a couple having issues seeing each other. They are a couple who don't have a lot of time with each other. Ruth's voice perfectly matches this song. When you listen you can imagine the story and understand what the boy is feeling with her way of singing. Milo Davis says "I like to think I'm in a pumpkin patch while listening to this." Milo seems to like "Shine On Harvest" because it brings her the thought of fall.
Nat King Cole released 'Tis Autumn" in 1947. "Tis Autumn" is talking about the changing weather, holding your loved one, and the change in the world during Autumn. Cole's voice soothes you as you listen to this. It puts a grip on you, holds you, and relaxes you. This song is Autumn's national anthem. While listening you can walk around while the fall leaves are falling around you and just feel relaxed. A perfect song for fall.
During the '50s a new era of jazz was becoming popular. A popular jazz and swing singer was on the rise. Billie Holiday has released many hits. All for different moods. "Autumn in New York" is a great song for looking out your window and watching the leaves fall. This song brings the feeling and visual of New York during the fall. Although there are multiple versions of "Autumn in New York", Billie's voice brings the whole song together. With her pitch, she brings the mood of the falling leaves. Mele Cadenas enjoys watching the snow on the mountains while listening to "Autumn in New York". "It makes me feel like I'm home but I'm at school." Mele feels that "Autumn in New York is" is a comfort song.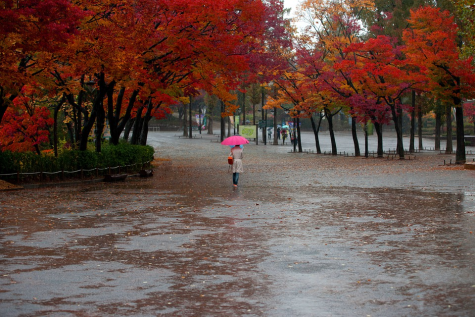 The beginning of fall is usually around September. The weather starts to change. The rain starts to come, the temperature drops and the days grow shorter. While it's raining you could stay inside and listen to Sarah Vaughn "September in The Rain". This song is about a special someone saying something to you while it's raining in September" If you use your imagination maybe you can actually believe someone is in love with you during the fall. This song brings many emotions, and Sarah's voice just ties everything together. This song could either be romantic or remembering what you used to have.
There are many more songs to discuss. The oldie songs that talk about love and autumn are honestly the best kind of songs. They will get you into the mood for fall no matter the time of year.