The Greatest Shooter of All Time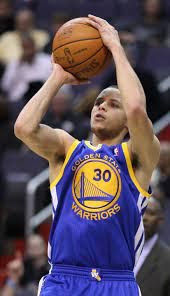 Steph Curry has recently passed Ray Allen for the most three-pointers made in an NBA career, solidifying him as the greatest shooter of all time. Ray Allen, known as one of the best shooters ever, ended his career with 2,973 three-pointers made. In Steph's 13th season, he has passed Allen, with a current total of 3,011. Steph is the only player in NBA history to make over 3,000 three-pointers, but the crazy thing is that he is on pace to make over 4,000 before he retires!
The truth is, even before passing Allen in total threes made, Steph was widely regarded as the greatest shooter of all time. Since coming into the NBA, Steph has completely changed the game of basketball. Because of Steph, the new generation of basketball players focus almost solely on three-point shooting. Before Steph, it was unheard of for anybody to shoot the ball past 30 feet. Steph changed the game when he started making shots from that distance. He is almost impossible to guard because he can shoot the ball better than any human ever.
"Steph Curry is really fun to watch, because nobody can guard him. He makes crazy shots all the time. And yeah, he's definitely the greatest shooter of all time," senior, Trevor Nelson, said.
"When I think of Steph Curry, I think of that one play against the Grizzlies where he shot it from the opposite side of the court and made it," junior, Abby Bennett, said.
He is a human highlight reel. He's made full-court shots, buzzer-beating game winners, ankle-breaking jump shots, and triple-teamed fade-aways. It seems like a surprise any time he misses. His shooting has led the Golden State Warriors to three championships in four years, and to becoming the best regular season team of all time. Stephen Curry truly is one of a kind.