Behind the Scenes of Spamalot
On Saturday, March 5, I went to see the spring musical, Spamalot. Spamalot is based on the Legend of King Arthur and his search for the Holy Grail. Spamalot is filled with hilarious tunes, antics, and killer bunnies.
Each set design for Spamalot had an enjoyable set that transported the audience into Camelot. Stagecraft had been working on this set for months. Tech for the play had been working on the musical for three weeks. Even during the play, they were working backstage on the costumes, makeup, sound, and craziness of backstage. After the musical, I went backstage to interview the stage crew for that night. I asked the stage crew about the building process for Spamalot.
"Lots of pain. Kind of hectic, but it was really fun," junior, Henry Green, said.
Jocelyn, in charge of makeup, explained how crazy it was with everybody changing costumes in such little time.
"It took a lot of practice but it all worked out," junior, Jocelyn Flammer, said.
After the musical was done, the actors were somewhat emotional because that was the last performance and all that bonding and practicing led to Saturday night. I asked the actors a series of questions to explain their feelings on the production, how overwhelming it was changing costumes, sharing about their nerves on stage, and their best moment with the cast.
"Being on stage is an energetic feeling. Opening night is always really scary, but now since I've done this a ton of times I know my lines. The best moment with the cast is when the boar's head got chopped off at the wrong moment and we were laughing so hard backstage," senior, Phaedra Henry, said.
"When a lot of people are offset backstage it gets really crazy and crowded. For me, this isn't an emotional night because I've been putting my work in. But it does feel weird not having something to go to after school now. The best moment with the cast would probably be mocking Ethan Moody and joking around with the cast. I have stage fright, so the opening night I felt like vomiting but the closing night was just a breeze," junior, Mary Francis, said.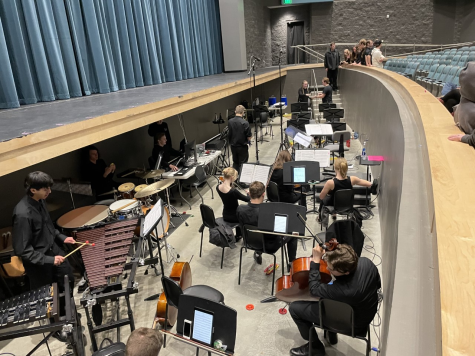 Besides the stage crew and the actors, the orchestra also had a big night. The orchestra had also spent months preparing for the musical. Spamalot was the first time the orchestra was in the pit, and ultimately it went well. I asked the student musicians in the pit what it was like to play in the pit for the first time.
"It was super fun, the pit is a super fun environment, I love that we got the chance to do this with the theater, and it was cool playing music down here and hearing singing up there," senior, Liz Kennedy, said.
Saturday night brought many different emotions to many different people. With months of hard work, it all led to Saturday night. I think everything about Spamalot was amazing. A huge part of musicals is the feeling the music and visuals give you. They often are left out of the picture but I believe every piece of the final product should be shown. Ultimately, we all walked away "Remembering to look on the bright side of life."