Book Review: Turtles All The Way Down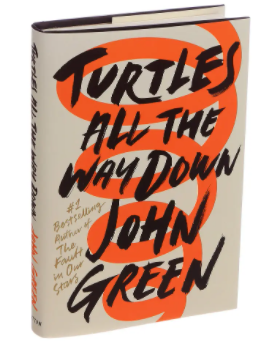 Turtles All The Way Down is a young adult fiction novel written by John Green. It is a story about a girl named Aza and some of the trials and troubles that she faces during her teen years. The novel also incorporates the mystery of solving a murder and keeps you hooked the whole way through. John Green has a very special way of depicting the characters' emotions so well that you feel them too. Specifically, Aza suffers from a severe case of OCD. John makes you feel like you are inside her head and can truly understand what she is going through. I think that this takes a lot of talent to do so. Although this book was a bit cheesy and definitely wanted for young adults, I believe that this book left me feeling more aware of people with these certain mental illnesses and trying to be more aware of the signs of them.
This book received many awards such as  #1 selling new york times best seller, #1 wall street best seller, and #1 international bestseller. 
"One needn't be suffering like Aza to identify with it. One need only be human," a New York Times article said.
"Turtles All the Way Down is about lifelong friendship, the intimacy of an unexpected reunion, Star Wars fan fiction, and tuatara. But at its heart is Aza Holmes, a young woman navigating daily existence within the ever-tightening spiral of her own thoughts." a Goodreads article said.
"I really enjoyed reading this book and I think it is a good book for teens," senior, Kira Butcher, said.
This book is very relatable and an easy read for anyone just getting into reading or just looking for something fun, quick, and engaging to read. Once you start, you won't want to put it down. I was able to finish this book in one day, granted the book was only 286 pages. I would say the best age range for this book is 14-18 years old. It does lightly skim over some heavier topics, and has a little bit of language, but if you don't mind that I personally think that this is a must-read book! I love that it incorporates mystery, romance, drama, and a little sci-fi; there is something for everyone in this novel.