NBA Playoffs First Round Update
The NBA Playoffs are one of the most exciting sports events of the year where the NBA's most elite teams play against each other to determine which teams are the best in the league. The matchups in the first round are Suns vs Pelicans, Jazz vs Mavericks, Heat vs Hawks, Bucks vs Bulls, 76er's vs Raptors, Warriors vs Nuggets, Grizzlies vs Timberwolves, and Celtics vs Nets. As of right now, the only team to advance to the second round is the Boston Celtics with a four to zero game sweep against the Nets.
The Nets seemed to be a stacked team, full of NBA superstars like James Harden, Kyrie Erving, and Kevin Durant and they left NBA critics scratching their heads trying to figure out what went wrong. However, in this series the Boston Celtics decided to zero in on one player in particular, Kevin Durant. During the regular season, the Celtics had the best defense in the league and KD would acknowledge their defensive abilities in his press conference after game four. 
"I'm hyped this year because Golden State's looking great so far," sophomore, Tage Schow, said.
The next closest teams to advancing to the second round are the Milwaukee Bucks, the Miami Heat, and the Golden State Warriors. Each of these teams have kept their opponent to one game while they are one win away from advancing to the second round. For the warriors, Stephen Curry just made his big return from injury in the first game of their series against the Nuggets which has helped the team tremendously. Milwaukee has superstar and past MVP Giannis Antetokounmpo who is showing up as expected and wreaking havoc on the Chicago Bulls. The Heat are being led by Jimmy Butler, but Tyler Herro really showed up during the first round to help bring his team to a three to one lead over the Atlanta Hawks.
"The Jazz have been doing horrible so far. I just hope we make it to the next round," senior, Will Swain, said.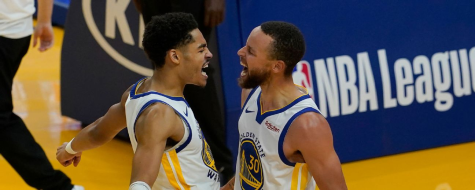 The teams to keep an eye on moving forward are the Celtics, in the east and the Warriors in the west. With the momentum gained in the first round either of these teams could easily make it to the finals and even win it all.