Remembering Girls Soccer Season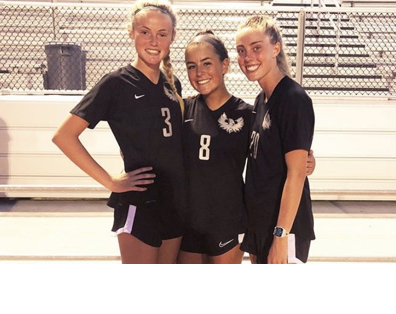 Sophie McGowen, Reporter
January 22, 2020
After an incredibly successful season, the girls' soccer team ended up region champions. The team went on to play in the state tournament and lost in the second round. Before state, the team was ranked number one in 5a. The team played incredibly well, and Farmington High is so proud of them. Everyone on the team worked so hard for their achievements and the team is very excited to continue to play next year. 
"Everyone worked so hard and we always pushed each other to be the best we can be. We bonded so fast this year and that's how we were so successful," Farmington soccer player, Woodyatt, said. 
Now that the season has ended, we can review some highlights from it. In the Bountiful game we beat Bountiful in the last 30 seconds from a corner kicked by Abigail Farrell and finished by Abby Orison. In the Viewmont game we won with a cross by Maryann barber and a header from Kalea Woodyatt. Many games were won in the final seconds before the game ended. In the Bonneville game the team won 2-1 in the last 9 seconds. The first region game was won against Box Elder 3-0. Our senior night was a 3-0 win against Woods Cross.  
"There is no one I would rather play with than all 40 of my best-friends and cannot wait to see what we can do with the next season. We will continue working hard and see where that dedication takes us," Farmington soccer player, Bowcut, said.   
The girls' team was excited about all of their momentum and was anticipating a good outcome at state. Despite not getting the ending they hoped for, the team was still proud of  the work they put into the season. Looking back on it they can always remember their highlights.