FHS Students Review New Restaurant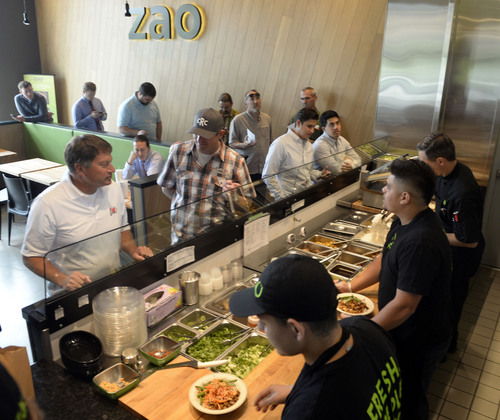 Sophie McGowen, Reporter
January 30, 2020
Lunch at Farmington High goes by in an instant for students. Most students were used to an hour lunch break before attending farmington high, but since transferring, have been faced with the challenge of a shortened lunch break. The 40 minute break leaves students searching for fast and easy places to eat at within close distance of Farmington High. Most students are familiar with the restaurants located at Station Park, but a new one just opened! It's an Asian cafe called Zao. It is located between Blue Lemon and Noodles and Company. Zao brings a fresh Asian food option to Farmington. Their motto is "a place for mindfulness." which means it's a great option for students to eat mindfully and understand what it is that they are putting into their bodies. Their nutritious food is also delicious. 
"I love Zao. It's like Chipotle for Asian food. I eat there like once a week but I used to drive to Bountiful for it so I'm excited it's in Farmington now," Senior, Jane Larsen, said. 
You should be able to get in and out within twenty minutes. It is definitely worth checking out for a new, fresh, and fun lunch option. With its popularity plan accordingly if you're thinking about going at lunch, there may be a line!