Students Are Getting Excited For NCAA Basketball
The official NCAA season started on November 9 opening with some big games like Kentucky vs. Duke and Kansas vs. Michigan State. College basketball is an excellent way to get involved with sports. Something about watching your favorite team with others who feel the same way will make your bond with others stronger. United under one team, with a single goal to win at all costs is always a good way to bring you closer with others.
"Some of my favorite memories with my family have been when we're watching college basketball together," sophomore, Tage Schow said.
Nearly anyone at the school, whether they care about basketball or not, has a favorite team. A common theme is usually people cheer for the team their parents went to school at, or someone they knew went to school at, if they haven't gone to college themselves. However, there are teams such as Kansas, Kentucky, Duke, North Carolina, and Gonzaga that people will cheer for just because they like watching them play. These teams usually maintain a high national ranking throughout the season which is why they are so enjoyable to watch.
"My family looks forward to March Madness every year, we all do brackets and pitch in to get prizes for the person with the best bracket," senior, Charlie Cox said.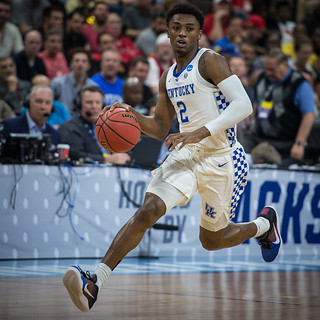 Even if you don't watch every season game or even if you don't watch any, chances are you still love March Madness. March Madness is the big NCAA tournament at the end of the season where the best teams compete to show off their skill and prove they're the best. Almost everyone gets into March Madness and tries to predict who will do the best and who will go the furthest in the tournament. So whether you care much about basketball or not, the NCAA is a good way to connect with others.