When is the Appropriate Time to Start Decorating for Christmas?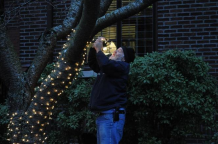 We're towards the middle of November, and Thanksgiving is on its way, but people are starting to put up decorations for Christmas already, and it is still over a month away. What's up with skipping past the forgotten holiday of Thanksgiving and when is the appropriate time to start decorating for Christmas?
I have gathered the opinions of some of Farmington High's students and faculty on when people should start setting up for Christmas.
"The most appropriate time to start decorating for Christmas is right after Thanksgiving, because it takes so long to put up the decorations, you need a whole month to enjoy them," office manager, Susan Spencer, said.
Maybe that's why people have everything set up for Christmas once Halloween is over, they need their time to enjoy this holiday and with many elaborate decorations that take a lot of time to set up, they want to be able to see them and get the best use out of them.
"The best time to decorate for Christmas is after Thanksgiving because you can't celebrate for a holiday before the next one has even happened," sophomore, Lincoln Bott, said.
"I think it really depends on if you're having Thanksgiving at your house. You can't start decorating before Thanksgiving if you are having Thanksgiving at your house," senior, Brady Barnett, said.
If you host your family or friends' Thanksgiving dinner, you have to focus on Thanksgiving decorations and all the food prepared for that, and you can't be setting up for Christmas during this time.
"Right after Thanksgiving because you have to wait and let Thanksgiving have its time," senior, Jake Anderson, said.
With Thanksgiving on its way, you heard it: the most appropriate time to start decorating for the favored holiday, Christmas, is after Thanksgiving. So, the people that start setting up before Halloween need to calm down and let the year run out its course.