Damian Lillard's Wasted Career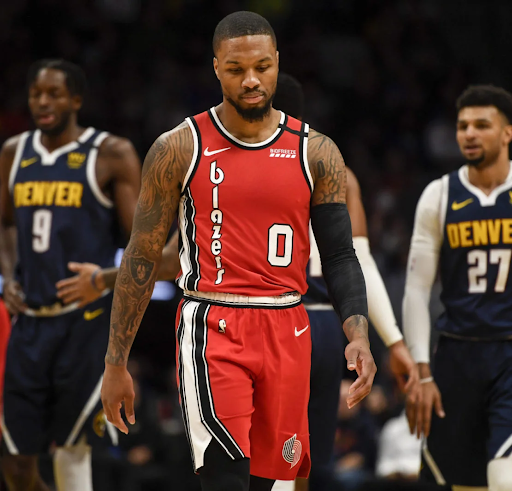 Damian Lillard has been one of the premier point-guards in the NBA for the past decade, averaging 25.2 points and 6.7 assists in his career. He has been the face of the Portland Trail Blazers since he was drafted in 2012. Despite being seen as one of the best guards in the league his team has never seen any significant success, which may factor into how Lillard's career is looked at. 
After attending Weber State University in Ogden Utah for a year, Damian Lillard declared for the NBA draft. He was selected with the 6th overall pick by the Trailblazers, where he has remained for his entire career.
"I love Lillard, he is so competitive and watching him make shots that no other player could make is insane," senior, Ethan Rivera, said.
Lillard has been seen as one of the most loyal players in the entire league for staying with the Blazers for so long, but this has not come without its downside. The Trailblazers could be summed up with one word "average." 
They have been in and out of the playoffs over the past few years despite Lillard putting up historical numbers. In Lillard's 11 seasons for the Trailblazers they have only made it to the Western Conference Finals once, in which they were swept by the Warriors. They have never made it to the NBA Finals, and this is going to put a blemish on Lillard's otherwise illustrious career. 
When thinking about all-time great basketball players, we immediately go to LeBron, Jordan, Magic, Kobe, but when considering players like Karl Malone or Allen Iverson people will always say, "They are great players but they never got a ring." This will be the case for Damian Lillard, he has become loyal to a fault. 
"I love Dame, but I kind of feel bad for the guy. He's stayed in Portland for so long and they don't look like they have the assets to be contending for a title for at least another few years, and who knows how much longer he will play for," senior, Tanner Covington, said.
Damian Lillard is a dying breed of player, one who never leaves the team who chose him. At this point in time, it looks like he will be a player that many forget about due to his lack of winning. He will never be considered a "ring-chaser" but he also will never be a champion.