Track and Field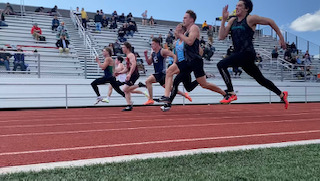 One of our schools most popular sports is definitely Track and Field. This sport is filled with many talented athletes from all grades who are ready to compete against other schools.
"My favorite part of Track is spending time with all my friends, I love just going outside and just hanging out with people that I know and spending time with them," senior, Tyler Thompson, said.
Track and Field has been a fun way for people to hang out and get a good exercise in. Many friend groups have decided to all join the Track and Field team together in order to be able to hang out more.
Not only is Track and Field fun to participate in, it is also enjoyable to watch.
"People should come to Track meets because the environment is so much fun. There's people screaming for each other and there's just a lot of teamwork happening and a lot of team spirit,"
senior, Caroline Torman, said.
After attending a Track meet, I was able to clearly see how impressive the crowd at Track meets truly are. The stands were filled with supporting parents and students there to cheer on their friends. The team spirit is real, everyone is cheering for each other and trying to motivate them to continue running.
This sport brings in a lot of dedicated people. These runners are constantly outside running miles and miles every day to bring home medals for Farmington.
The Field part of Track and Field is constantly overlooked and forgotten. The Field part consists of high jump, pole vault, long jump, shot put, discus throw, and javelin. These activities also require a lot of hard work and practice.
"I throw shot put and discus. I thought doing these events would be a lot more fun because I do not enjoy running in circles," senior, Ethan Roylance, said.
Both parts of Track and Field are very impressive and require a lot of time and dedication.