Panda express: Review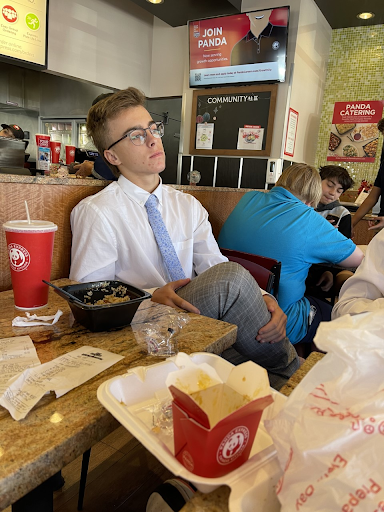 Panda Express is a well known restaurant in many places across utah and the U.S, It has some amazing food and great ordering methods!
There are so many different restaurants that you can eat at, which one should you choose? Panda express is one of the best options you could choose, they have so many different choices of foods, and there are so many different food combinations as well.
"Panda Express is really good because you get your food really fast. The orange chicken is amazing! So is the Ham Fried Rice. The environment of the restaurant is a little hard because the workers don't talk very loud." Matthew Croasmun, said
When you walk into Panda Express you are greeted and then put in line. In this line you can decide what you want to eat, from a bowl, plate, bigger plate, family meal etc. after you have decided that you can choose from a variety of amazing and delicious foods!
"Just finished lunch here. What a great improvement from the last visit. Nice to see a company that actually cares about their customers! Panda Express is our new favorite. Joel R. was the one who helped us today and he's absolutely awesome! Excellent customer service! We will be returning and adding this to our dining schedule rotation. Keep up the excellent work and Thank you for a pleasant dining experience!" Jenny D, said.
If you are looking for a good meal for a good price, Panda Express is your place! The portions that they give are great, you won't go hungry, you may even have extra. With every meal you also get a complimentary fortune cookie!
There are so many great things at Panda Express, but nothing is perfect. If you go to Panda Express at one of the busiest times, you may be in line for a while so if you are in a rush this isn't the place to be while it's busy. Along with it being busy, some of the staff may not be the kindest and they are trying their best to get people through the line but they start to rush and it may be hard to order. There aren't too many downsides to Panda Express, yes it may be crowded at times but the quality of the food is still amazing, and the atmosphere is great! Panda Express is the place you should be!