Bright Future for the Thunder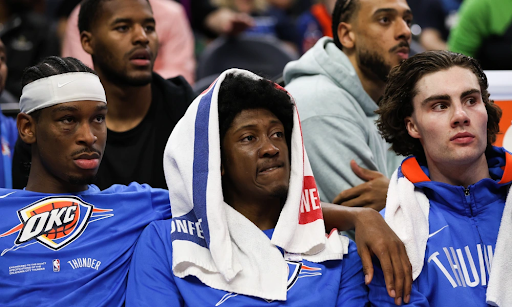 The Oklahoma City Thunder have had a roller coaster ride of success in recent years. From an NBA Finals appearance in 2012 to finishing 14th in the West in 2020. They have had some of the greatest players in the league on their team, including Kevin Durant, James Harden, Russel Westbrook, and Paul George. But a championship has continued to evade them. 
"That was a team that I used to watch all the time with Westbrook and Durant, and when those two split up it really seemed like the end of an era." FHS Senior Tanner Covinton said.
In recent years the Thunder have made blockbuster trades to prepare for a rebuild in the future, acquiring young star Shai Gilgeous-Alexander and a number of picks. They currently have 9 first round picks in the years 2025-2027 that they could leverage to make trades or use to find newer young players. 
This year was expected to be a rough year for this young Thunder team, with Forbes predicting them to go 28-54. After having the second overall pick in last year's draft nobody believed that they could win a significant amount of games, but the young squad was ready to shock everyone. 
The young Thunder team ended with a 40-42 record and made the play-in tournament. They won their first play-in game against the New Orleans Pelicans, but unfortunately lost to the Minnesota Timberwolves in the second to knock them out of the playoffs. 
While missing the playoffs may be seen as a failure for a team like the Denver Nuggets, what the Thunder were able to do this season is seen as a huge success. It is a snapshot of their future success. 
"The Thunder are going to be dangerous in the future, I love Shai and I could see him leading that team to a championship in a few years." FHS Senior Crew Frost said 
One of the main reasons for the Thunder's success was All-star Shai Gilgeous-Alexander, who averaged over 30 points and 5.5 assists to go along with it. They also had players like Josh Giddey play a huge role for their team, getting buckets in the most crucial times. 
Overall, the coming years look extremely promising for this Thunder team. With Chet Holmgren playing on their team this next season they could be in the playoff picture once again and could be a major threat.